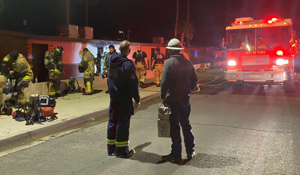 Apartment in Yuma catches on fire from bag of dirty clothes
​​ 
YUMA — An apartment in Yuma was unable to be reoccupied after it caught on fire. Around 1 in the morning, Yuma fire got a call about a fire in the bathroom of a unit at First Avenue Apartments. The fire was quickly extinguished and contained to the unit it started in.
The tenant of the apartment was not home at the time. The apartment sustained heavy fire damage and was not able to be reoccupied. Since the power to the unit had to be secured, the neighboring apartment could not be reoccupied either. The American Red Cross was requested and assisted the displaced occupants.
The fire was found to have originated in the location of a bag of dirty clothes that had been soiled with cooking grease/oil. One occupant from a neighboring apartment was evaluated by YFD paramedics for smoke inhalation, but was not taken to the hospital. There were no other injuries.