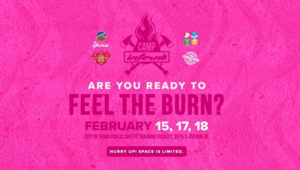 Are you ready to feel the burn? Experience the life of a firefighter at Camp Inferno
​​ 
YUMA – The City of Yuma has been encouraging young women to come out and feel the burn at Camp Inferno. The camp will be for the ages of 14-years-old to 19-years-old. During the program women will experience a day in the life of elite women in fire and life-safety services.
Officials for the program say the goal is to afford the opportunity for a "real world" experience where young women are encouraged to challenge themselves on numerous physical and mental firefighter tasks in a controlled setting.
All Camp activities will be held at the Yuma Fire Department Public Safety Training Facility located at 3575 S. Avenue 4E. Dates and times are as follows:
Wednesday, February 15, 2023 – 4:00 pm to 7:00 pmFriday, February 17, 2023 – 4:00 pm to 8:00 pm (Dinner will be provided)Saturday, February 18, 2023 – 9:00 am (SHARP) to 6:00 pm (Lunch will be provided)
Register here.