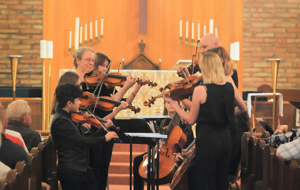 AWC Music department presents Chamber Music Concert
​​ 
YUMA — The community is invited to attend an upcoming Student Chamber Music Concert presented by the Arizona Western College Music Department.
The event will be held at 5:00pm on Sunday, November 5, at St. Paul's Episcopal Church, 1550 S. 14th Ave.
"Talented musicians from our AWC String Ensemble will be performing selected portions of Vivaldi's 'Four Seasons' as well as a variety of other classical pieces," said Margaret Fenske, AWC String Ensemble Director.
The concert is free and open to the public. Donations to benefit the AWC Music Department will be accepted.