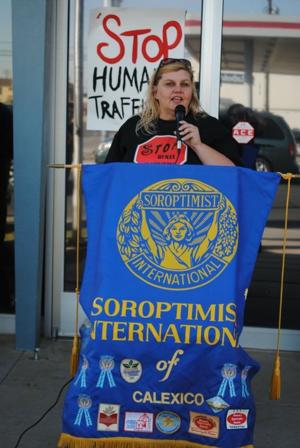 AWC Professor was selected to serve as delegate for Commission on the Status of Women
​​ 
YUMA — Arizona Western College Professor of History & Sociology Monica Ketchum-Cárdenas will be representing Soroptimist International as a delegate to the 67th Session of the Commission on the Status of Women (CSW67) at the United Nations Headquarters in New York City from March 6-17.
Ketchum-Cárdenas was selected to participate along with 13 other women from Soroptimist International of the Americas (SIA), which includes North and South America, Japan, South Korea, Taiwan, and the Philippines. Additional delegates will be joining from SI Great Britain & Ireland; SI Europe; SI Africa; and SI South East Asia Pacific.
As an organization that advocates for human rights and gender equality through education and empowerment, Soroptimist International has consultative status with the Economic and Social Council and has a permanent seat on the Commission on the Status of Women. Each year, the Soroptimist International President leads a delegation to the annual CSW Session where leaders discuss progress and gaps in the implementation of the Beijing Declaration and Platform for Action, recommending further actions to promote gender equality.
Ketchum-Cárdenas is officially representing Soroptimist International of the Americas and Women for Water Partnership. This year's priority theme is "Innovation and technological change, and education in the digital age for achieving gender equality and the empowerment of women and girls." During the session, the CSW will also review progress made toward the 2018 priority theme, "Challenges and opportunities in achieving gender equality and the empowerment of rural women and girls."
As a delegate, Ketchum-Cárdenas will have an opportunity to network with United Nations officials and members of NGOs to advocate for Soroptimist International's position related to gender equality and share the work that the organization is engaged in locally and globally.
"I am excited to participate in CSW67 as I have been following the progress made toward the United Nations' Sustainable Development Goals (SDGs), particularly as they relate to gender issues," said Ketchum-Cárdenas. "This year's theme truly resonates with me, as I have experienced how technology has improved access to education on one hand, yet has created new challenges on the other. I'm eager to convene with representatives from NGOs around the world who are collaborating to support the SDGs with gender equality front and center."
While there, she will also be attending the Soroptimist International of New York City's Centennial Celebration. Soroptimist International was founded in Oakland, CA in 1921, and Soroptimist International New York City was one of the first five clubs chartered.
Ketchum-Cárdenas has been a member of Soroptimist International of the Americas at the local, district, and region levels since 2006, chartering Soroptimist International of Greater Yuma in 2019. She was also the 2019 recipient of the Governor's Award for the Desert Coast Region.