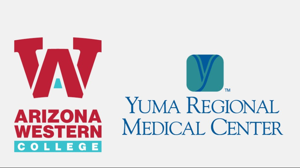 AWC & YRMC enter into affiliation agreement to build future of regional healthcare
​​ 
YUMA — With a shared vision of transforming healthcare education in Yuma County, Arizona Western College and Yuma Regional Medical Center have recently entered into an affiliation agreement to create new programs and facilities for a sustainable future of a wide range of healthcare training. The early plans include a new allied health training facility adjacent to YRMC.
A press conference regarding the new facility will be held on Wednesday, Feb. 15, at 10 a.m. in the Administrative Building at Yuma Regional Medical Center, 2400 S. Avenue A. The media is invited to attend this event.
The training facility will include programs in a wide variety of allied health fields including Behavioral Health, Phlebotomy Technician, Medical Billing and Coding, Community Health Worker, Radiologic Technology, Nursing, Certified Nursing Assistant, Massage Therapy, Health Aid, and Medical Assistant. The facility will serve short-term certificate students as well as those attaining associate degrees, bachelor's degrees and beyond.
"This unique partnership brings exponential possibilities. It is a true demonstration of what is possible when industry and advanced learning come together for the greater good of the communities we serve," said AWC President Dr. Daniel Corr. "This partnership serves as another giant step towards our BHAG of doubling bachelor attainment rates by 2035 – by bringing together industry, university partners, research and hands-on learning to advance opportunities for students."
As hospitals and healthcare providers across the nation struggle to fill vacant positions – local leaders are focused on new innovative solutions designed to provide a steady pipeline of skilled professionals.
"Delivering the best healthcare for our community depends on our ability to attract and retain the best people," said YRMC President and CEO Dr. Robert Trenschel. "Our partnership with AWC takes a new approach to expanding career opportunities and growing our own. Growing our own local talent is a win-win investment in our community. Graduates that result from this partnership will provide care for our neighbors, relatives and visitors for years to come."
Dr. Corr and Dr. Trenschel acknowledged that this initiative was fueled by the collective efforts of AWC Vice President of Workforce Development and CTE Reetika Dhawan and YRMC Chief Operations Officer Dr. Trudie Milner. They shared that these two leaders have been a driving force for the advancement of healthcare education in the region.
"This partnership began with a shared passion for meeting the needs of our community. Yuma Regional Medical Center is one of the area's largest private employers – they are a hub of our community. I was excited to sit down with them and learn about how we could partner to better meet their needs," said Dhawan. "Together we are leveraging our individual strengths to develop programs that will transform healthcare education. That is exciting! I am deeply honored to work with Trudie – we have a shared passion for higher education and the opportunities to deliver more for our community."
Dr. Milner added, "Reetika's passion for finding innovative solutions is contagious to everyone around her. Reetika is an inspiring leader who is determined to find innovative solutions. She replaces the word 'no' with 'let's find a way.'"
The AWC and YRMC agreement positions both institutions to develop needed programming and curriculum with agility. The two organizations will share executive-level leadership to make grants and external funding applications more attainable.
Goals for the joint training facility include:
Improved local health metricsPreventing the 'brain drain' of local students leaving for education elsewhere and not returning to work in the Yuma regionMaximizing local investment by sharing facilities and equipmentBuilding sustainable health training programsSimulation Lab
Construction on this project is expected to begin in 2024. The three-story, 75,000-square-foot building will also be home to medical residency training at YRMC.
Yuma Regional Medical Center is a 406-bed, not-for-profit hospital dedicated to providing outstanding medical care to the residents of Yuma and the surrounding communities in southwestern Arizona. The YRMC team includes more than 2,000 employees, over 365 medical providers and hundreds of volunteers who work closely together to create a welcoming, caring, and compassionate environment for patients and their families.