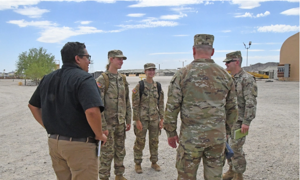 Cadets feel confident in future after interning at YPG
​​ 
YUMA — Army Reserve Officers' Training Corps (ROTC) cadets Maddy Hippensteal and Lauren Hernandez say after spending three weeks at U.S. Army Yuma Proving Ground (YPG) as part of the ROTC program that they have great confidence in the equipment the Army provides.
"To be able to see everything that goes into making it work, getting fielded, getting it out into Soldier's hands is truly exceptional," remarked Hernandez. "If anything, it makes me put more faith into the equipment I am using and am going to be using one day. I know the faces who put the work and the effort in, all super passionate people."
Both Hernandez and Hippensteal are committed to the Army and are finishing up their college career while fulfilling requirements to become Army officers. They take part in physical training several times a week, and once a semester they attend a full field training exercise, among other military duties.
Colorado native Hernandez is studying engineering at Colorado School of Mines while Hippensteal, who is from Pennsylvania, is attending Bucknell University.
"Between your junior and senior year of college you go to advance camp over the summer. That's where I just came from. That is where you get evaluated and ranked nationally in addition to your GPA and extracurriculars you do," explained Hippensteal.
Following advance camp, both cadets completed three weeks at YPG in an eye-opening experience learning how YPG tests equipment for the warfighter.
"Something we are taught in the military is 'trust your equipment', so it's beneficial being on the other end and seeing I can trust this equipment. That is something we will definitely bring back to our schools and units in the future. I am really super excited that I got this experience at YPG," said Hippensteal.
The cadets started their first week with capabilities overview briefs to learn what goes into testing equipment for the warfighter. During weeks two and three they visited gun positions and testing sites, experienced arming and firing of weapons systems, and had the opportunity to pull the lanyard to fire one.
They have nothing but praise for their mentors, Matt Hostetler and Mike Torres both test officers with Combat Automotive Systems Division and Luis Arroyo, Chief of the Training and Exercise Management Office Branch within the Range Operations and Training Division, whom they shadowed.
"He brought us to work with some of the Marines who are here temporarily and that was an amazing experience, we were able to interact with a lot of military personnel," recalled Hippensteal.
Both cadets are now armed with knowledge to help make the next step in their career.
"Since we are so young in our career, it's awesome to get to see some of the behind the scenes testing now before we get into the Army. A lot of people get to see this later in their career, so it's really a unique experience being able to see the test observations, watch live fires, ride in vehicles that we may never see in our career but also to get that exposure and diversify our experience in the Army before we decided what we want to do because now we have all of this new experience picking branches that we might have not had before," remarked Hippensteal.