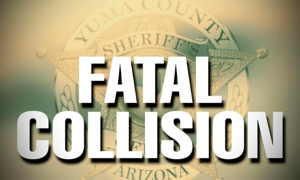 Car crash in Yuma leads to man dead and others taken to local hospital
​​ 
YUMA — YCSO have been investigating the accident that left one man dead and the others take to the hospital. On February 5, 2023, just before 4:30 in the morning. Deputies got a call about a two-vehicle crash in the area of Highway 95 and Mile Marker 7.
According to deputies, a black 2017 Hyundai Santa Fe and a silver 2018 Honda Civic were both driving on Hwy 95 when they crashed into each other head-on. The Hyundai was driManving south when it crossed the center line and hit the Honda Civic that was traveling north.
The driver of the Honda Civic, identified as Joshua Bingham, 34, of Yuma, AZ, was pronounced dead at the scene. The driver and passenger of the Hyundai Santa Fe were taken a local hospital with serious injuries.
deputies say alcohol appears to be a factor in this collision.