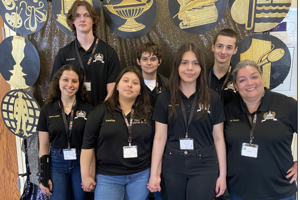 Cibola finishes in top 20, SLHS earns two medals at Academic Decathlon state tournament
​​ 
YUMA — Cibola High School's Academic Decathlon team finished 20th in this year's state competition at Phoenix College on March 10-11, marking the ninth consecutive time the school has placed among the best 20 teams in the state.
The Cibola team consisted of Savannah Botello, Clarissa Karam Haddad, Regina Esparza, Hunter Arnold, Hyrum Donaldson, and Joaquin Felix, who earned a silver medal in Economics.
San Luis High School, competing in their first state tournament in the school's 22-year history, finished 26th and Gila Ridge, participating at state for the 12th year in a row, placed 35th out of the 40 schools competing.
Oscar Patron won a silver in Interview and Nicholas Gonzalez won a gold in Math for San Luis, while C.J. Stanley had the most points from the Gila Ridge team, placing him 63rd out of 337 students competing.
The Arizona Academic Decathlon is a ten-event scholastic competition for teams of high school students. Just like its ancient Greek counterpart, the Academic Decathlon® consists of ten events; success doesn't come from being the best in a single event, it comes from mastering ten varied skills and disciplines.
Every Academic Decathlon competition, whether it's a regional, state or national final follows the same format. Students compete in art, economics, essay, interview, language & literature, mathematics, music, science, social science, and speech. And teams compete in Super Quiz, the public quiz-show-style culmination of each competition. Each school enters a team of nine decathletes: three Honor students, three Scholastic students, and three Varsity students.