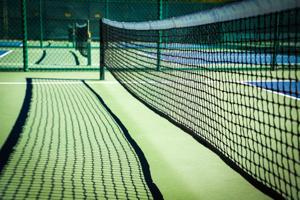 City of Yuma announces ribbon cutting event on newest pickleball courts
​​ 
YUMA — The City of Yuma has been informing the community about the ribbon on its newest pickleball courts. Then, it's going to break in those courts with an inaugural tournament, on April 1st.
The ribbon cutting for the courts at Ray Kroc Sports Complex, adjacent to Desert Sun Tennis Courts and the Yuma Civic Center, will be 8 a.m. April 1. Address is 1280 W. Desert Hills Drive.
The tournament, a mixed doubles "Jack and Jill" event played in round robin format, will then commence with check-in at 9 a.m. and play starting at 9:30 a.m.
The City converted the standalone "exhibition" tennis court to four standard outdoor pickleball courts to meet growing demand from residents and visitors.
Registration is now open for the tournament, with a deadline of 4 p.m. March 29. Only full-team registrations will be accepted. Participants must be 18 years or older. Online registration link is here.
Tournament participants should bring their own paddle, sunscreen, water, a light snack, and a chair for time between matches. The City will provide outdoor pickleballs.