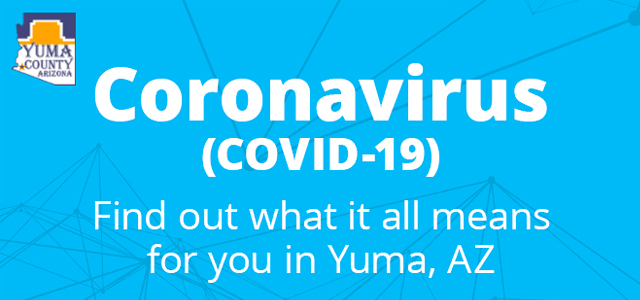 Coronavirus (COVID-19)
February 12, 2021
"What Are We Doing With the COVID-19 Vaccine? All the information you need to know regarding COVID-19 Vaccines in Yuma County"
---
December 23, 2020
The Arizona Department of Health Services has guidance on Ways to stay safe and healthy this holiday season.
---
March 30, 2020
"Stay home. Stay healthy. Stay connected.
At the recommendation of public health officials, I'm issuing an Executive Order for Arizonans to stay home while encouraging alternative ways to stay connected with friends and loved ones. This order builds on Arizona's efforts to protect public health by reminding Arizonans to maintain healthy habits, including physical distancing, and continue to look out for each other and support one another." – Governor Ducey
---
March 26th, 2020
Dear Business Leaders,
I hope this email finds everyone in good health.  I am writing to provide the most recent update for Yuma businesses during the unprecedented COVID-19 pandemic.
There is a new webpage established by the Yuma County Chamber of Commerce that showcases restaurants open and available for food delivery: https://www.yumachamber.org/eat_local.html?fbclid=IwAR36hbyO9264doOR2Ls1prrvsO_IpnKDU_eijAULwbQ7lwqG732AMfCyavY

If you are not on the list, contact the Yuma County Chamber of Commerce so that you are able to have your restaurant listed.
I'm communicating with Governor Doug Ducey's Office every morning, discussing items to aid businesses owners in getting through this, as well as your employees with things like mortgage eviction assistance, access to internet, and help with utilities payments that may fall behind during this time. A few updates:
Visit Arizona Together (https://arizonatogether.org/ ) for the governor's resources for businesses, employees, homeowners and other struggling because of the COVID-19 pandemic.
In the midst of the COVID-19 crisis, Arizona Public Service has suspended shutting off power to residential and small business customers for non-payment and is waiving late fees.  APS' Customer Support Fund for those who need assistance will be available through advisors by calling (800) 253-9405 weekdays from 7 a.m. to 7 p.m.
Southwest Gas has a temporary moratorium on natural gas disconnections for non-payment in effect until further notice for their business and residential customers. SWG's Customer Service line is (877) 860-6020.
The City of Yuma also has a Customer Service line available for those who are struggling to pay their water service and will not be shutting off anyone's access to water. Please contact (928) 373-5076.
Governor Doug Ducey issued an executive order clarifying businesses deemed "essential" by the state. The order is proactive and not happening yet: the list is set to ensure consistent guidance across the state if a stay-at-home order were issued in Arizona by Governor Ducey. View in English HERE. View in Spanish HERE.
Small businesses and nonprofits with losses due to coronavirus may apply for low-interest loans to keep operations running and their employees paid through the United States Small Business Administration (SBA) Economic Injury Disaster Loan Program. Visit www.SBA.gov/Disaster
I encourage you to keep our communication a mainstay during this time. Please reach out to me to share your concerns during this times, so that I am able to best champion for the community and for you. We will get through this.
#YumaStrong
Sincerely,
Douglas J. Nicholls
Mayor, City of Yuma
One City Plaza
Yuma, AZ 85364
928-373-5002
I am United for Yuma!  www.UnitedForYuma.com