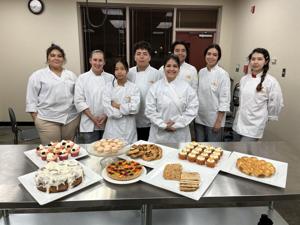 Culinary Arts program at AWC Yuma launches new curriculum this fall
​​ 
YUMA — The Culinary Arts program at Arizona Western College has been redesigned to cater to what employers are looking for in the restaurant industry.
Chef Bob Gedeon, Professor of Culinary Arts, has worked to rebuild the program curriculum over the past two years to allow students to earn stackable certificates through shorter, more intensive 8-week classes. The new course format will prepare students with a wide range of skills and industry-specific experience.
"It's my goal for the program to be more commercial industry related to where the students are learning about how to get into the industry rather than just learning how to cook, because I can teach anybody how to cook," said Gedeon.
"Students will learn how to set up a working station and produce food in a real kitchen environment so when they graduate they will be able to go to any restaurant or any hotel resort and say, 'Yes, I can work a sauté station, I can work a fry station, I can expedite food.'"
Students in the program will gain a more comprehensive understanding of menu planning, saucier and meat fabrication, garde manger, baking, ServSafe Prep, catering, advanced cuisine, and more.
The process for revamping the program included a complete reorganization of the teaching lab kitchen so it corresponds more closely with the new curriculum.
"When I first walked into this kitchen almost four years ago, it was set up more like a home economics class. I turned the space into more of a satellite kitchen where students can set up in an area and have access to everything they need, whether that's a satellite burner, mixers, or food processors – everything is available at each station now so they don't have to go to one area to use this or one area to use that. Students have the ability to utilize all the equipment they will need in their station area," said Gedeon.
Gedeon, who came to AWC from a career as an Executive Chef in hotels, resorts, country clubs, and conference centers, shared that the program has already been making a name for itself with alumni going on to work at high-end restaurants locally and beyond.
Students can start their journey in the Culinary Arts program this fall with new, entry-level Basic Culinary Arts courses offered every eight weeks. Students can also utilize the program to earn certificates and an associate degree that will help advance their current career, move to a new job in the workforce, or start their own catering, restaurant, or personal chef business.