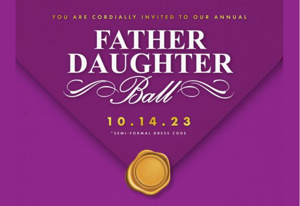 Father – Daughter ball hosted by the City of Yuma
​​ 
YUMA — This semi-formal ball is designed for girls and their Fathers/Father figures. Your child will receive a corsage from their dad, will dance to a DJ, and will also have several photo opportunities to make the evening an extra special event that you will both remember for a lifetime.
This event is on October 14th from 5:30pm to 7:45pm. Ages 3-12 are welcome, there is a $35 per couple (Additional tickets can be purchased for $15.00)
Must call 928.373.5200 to purchase additional tickets.
Shilo Inn, 1530 S Castle Dome Ave, Yuma, AZ
Register here
Semi-Formal dress code:
Semi-formal attire is more fancy than business attire but just a notch below formal tuxedos and fancy gowns.
For Him: Wear a dark suit with a long tie. Tip: The more formal the dress code, the less expression you are allowed in determining your attire options; this is particularly true for men.
For Her: This is the perfect time to break out that little black dress. Most women will wear a classy short evening dress, though you may also opt for dressy separates. Tip: Ladies should avoid very short dresses and skirts that are shorter than 1 inch above the knee.