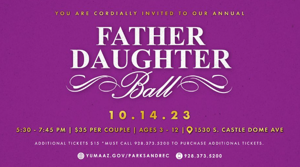 Father-Daughter Ball in Yuma, registration now available
​​ 
YUMA — Registration is now open for the Father-Daughter Ball, a semi-formal event taking place 5:30 to 7:45 p.m. Saturday, Oct. 14.
This special event is designed for girls ages 3-12 and their fathers or father figures. This will be an evening to remember as dads and daughters will dance the night away to music provided by DJ Bobby Mac. There will be several photo opportunities and each daughter will receive a pin-on corsage.
Registration is available for $35 per father-daughter couple. Sign up through Yuma Parks and Recreation online, by phone at 928-373-5200, or at their office on the first floor of City Hall, One City Plaza. Tickets for each additional daughter are available for $15 each; please call Parks and Recreation to purchase. Limited space is available.
The event will take place in the ballroom below Angry Crab, 1530 S. Castle Dome Ave. Staff will be on hand to guide visitors to the proper entrance.
A child-friendly buffet dinner and dessert will be served.
The semi-formal dress code is a step above business attire but also a notch below formal tuxedos and fancy gowns. Men are suggested to wear a suit and tie. Most young ladies will wear a classy evening dress, though they may opt for dressy separates. Ladies should avoid very short dresses and skirts that are shorter than one inch above the knee.
For more information, contact Parks and Recreation at 928-373-5200.