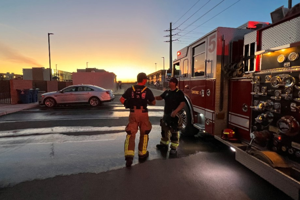 Fire starts in kitchen at Yuma apartments, home was occupied
​​ 
YUMA — Around 6 at night, a fire alarm was pulled from the Cielo Verde Apartments. Yuma Fire got to the apartments to find that a fire sprinkler head in a kitchen of an occupied apartment had activated and extinguished a fire near the stove area. Firefighters confirmed the fire was out and secured the water flowing through the sprinkler head.
There was two people in the apartment at the time of the fire, they were able to get out safe. The fire was believed to have started in a pan that was left on the stovetop in the kitchen. Fire damage was limited to items in the immediate area because of the automatic fire sprinkler system.
Fire sprinkler systems can keep fires from spreading and can also extinguish them. Fire spreads quickly and can double in size every minute. Even small fires can cause significant damage to property and endanger those nearby. Contrary to many Hollywood portrayals, only sprinkler heads directly exposed to the heat activate, not those in the rest of the room, building, or complex. Sprinkler systems save lives and protect property.