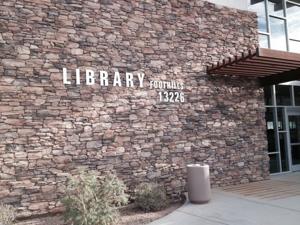 Foothills Library introduces new March calendar
​​ 
FOOTHILLS — Foothills library has been informing the community about the new calendar for March. Children of all ages and teens are invited to the Foothills Library for story time and programs. There is no charge to attend.
Wednesday, March 1st, 8th, 15th, 22nd, 29th @ 10:30 a.m.
Storytime
Enjoy stories and songs while building language and learning skills at our weekly storytime.
Thursday, March 2nd @ 4:00 p.m.
Teen Advisory Board
Join the Teen Advisory Board of Foothills Library and create decorations, organize handouts for programs, and explore ideas for teen programming with staff. Each participant will have a say in what programs will be held for next month. Ages 15-17 welcome.
Friday, March 3rd @10:30 a.m.
STEAM Storytime
It's never too early to introduce your child to STEAM (Science, Technology, Engineering, Art, and Math) concepts. This part storytime, part lab program provides fun ways to explore topics like the five senses, movement, color, sound, and so much more! For ages 3-6 with a caregiver.
Saturday, March 4th @ 10:30 a.m.
Library Lab: Rainbow Bridge
Put your engineering skills to the test and help us catch a leprechaun by building a bridge strong enough to hold a pot of gold! Ages 7-12 welcome. Space is limited.
Saturday, March 4th @ 2:00 p.m.
Paint a Poem
Listen as a poem is read aloud, then create a painting based on the poem! Ages 7-12 welcome. Space is limited.
Tuesday, March 14th @ 3:00 p.m.
Tween Crafternoon: Rainbow Scratch Art
Using sharpies and black paint, we will create a colorful canvas. Once complete, each artist will be able to scratch in a design or drawing and reveal the colorful background! For ages 11-15. Limited supplies; first come first served.
Saturday, March 18th @ 2:00 p.m.
Manga Workshop
Discover the history of Japanese American art styles and their influences. Together, we will discuss the influence Japanese comic art has on today's American comics and learn how to draw in our favorite Manga art style. We will learn how to recreate those big-eyed characters as well as come up with some of our own! Ages 13-17 welcome.
Thursday, March 23rd @ 3:00 p.m.
TBT: Just Dance Marathon
Love to dance? Time to show off your moves to Throwback songs of the 2000s on Just Dance with Wii! Water, snacks, and prizes provided. Ages 13-17 welcome.
Thursday, March 23rd @ 6:30 p.m.
Stargazing
Join us for an evening of stargazing! Lawn chairs, binoculars, and telescopes welcome. Telescopes will be provided courtesy of the Friends of the Foothills Library. All ages welcome.
Saturday, March 25th @ 3:00 p.m.
March Madness UNO Tournament
Form a team of 3 and put your UNO skills to the test! The winning team receives 3 gift cards to In- N- Out. Refreshments provided. Registration is required; participants must organize a team of 3 to enter. Open to ages 11-19.
The Foothills Library is located at 13226 E South Frontage Road. For more information, call (928) 342-1640.