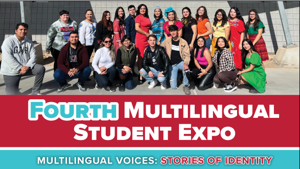 Fourth Multilingual Expo to be presented at San Luis Learning Center
​​ 
SAN LUIS — The community is invited to join first-year English Composition students from the Arizona Western College San Luis Learning Center (SLLC) as they present the Fourth Multilingual Student Expo, themed, "Multilingual Voices: Stories of Identity," on Wednesday, Oct. 4.
In celebration of Hispanic Heritage Month, ENG107 and ENG108 multilingual students will explore the theme of "identity" as it relates to language and culture. The Fourth Multilingual Expo brings together a diverse community of students, educators, and language enthusiasts. The event features a wide range of presentations, performances, and interactive exhibits that highlight the multifaceted nature of identity within the context of multilingualism.
"My personal journey as an Iranian woman teaching English at AWC's San Luis campus mirrors the essence of this event. My identity is a blend of my Persian, Turkish, and Kurdish heritage, mingled with my daily use of the English language. It is as if these distinct worlds converge, shaping who I am. Beyond personal growth, I have discovered the societal significance of my role as an Iranian educator in America. My cultural background infuses principles of respect, warmth, and hospitality into my interactions, transforming my classroom into a nurturing space where diverse voices are celebrated. I see myself as a bridge, connecting cultural divides and fostering unity through education," said Dr. Sara Amani, Professor of Multilingual Composition/Specialist.
"I am looking forward to seeing our students and professors share their personal journeys, illuminating the intricate web of identities that make our campus vibrant. This Expo is not just an event; it is a celebration of the diversity of voices that enriches our college experience."
During the expo, students and professors from various backgrounds will shed light on how language and culture shape and mirror their unique identities.
"I am very excited to take part in the event as the Co-MC for the first time at the college level. Join us on October 4, as we embrace the diversity that unites us and discover the power of language in shaping our unique paths. This Expo is an opportunity for all of us to come together, share our stories, and celebrate our multilingual voices," said Samantha Olivarria, an ENG-108 student majoring in Radiologic Technology.
Miguel Torres, who is also a Co-MC for the event, added, "Through fun presentations and performances, we will showcase the beauty of multilingualism and the stories it tells about who we are. The expo invites us to explore the unique narratives that each of us brings to the table." Torres is an ENG-108 student majoring in Administration of Justice Studies.
The event will be held from 3:00-4:30pm in Multi-Purpose Room 104 at the SLLC, 1340 N. 8th Avenue, in San Luis, Arizona. The public and members of the media are invited to attend.