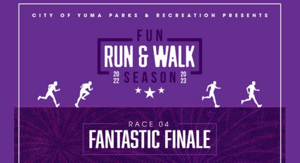 Fun Run & Walk event comes to an end in Yuma, join before Feb. 24th
​​ 
YUMA — Yuma park & rec has been informing the community about the final Fun Run & walk event. The event will be on February 25th, and the race starts at 8:15 in the morning.
Attendees will go to West Wetlands Park, and officials for the event say to give yourself time to park and check in. There is a $25 fee to enter, but ages 17 and under are free.
Register here for any division.
Most of the courses are paved or on groomed trails. At times the track may be rugged and graveled in areas. Officials for the event also advise planning accordingly with proper shoes and strollers.
The deadline to join the race is February 24, 2023, at 1:00 pm.
At West Wetlands Park, vehicles will not be allowed to enter from 8:10 am until the last runners have made it through the roundabout.