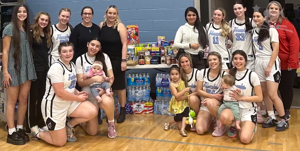 Gila Ridge girls basketball collects around 550 donations for Amberly's Place
​​ 
YUMA, AZ – The Gila Ridge High School girls basketball team hosted a fundraising drive for Amberly's Place and collected around 550 items for donation. The donated items ranged from cereal and pasta to diapers and wipes.
Gila Ridge girls basketball coach and health teacher Lindsay Martin has been involved in the community since before she started teaching and coaching. She came up with the idea for the team to start a drive for Amberly's Place as a way of getting them involved.
"We are showing these young ladies that it is not just about basketball," Martin said. "It is who you are as people at the end of the day. These girls want to help and be involved not just in school, but in the community."
The team set up donation boxes around campus, encouraged people to participate in the drive on social media, and teachers hosted class competitions tracking who donated the most items.
The drive ended during the senior night girls basketball game against Desert Ridge High School where personnel of the Yuma Police Department and Amberly's place were in attendance and Miss Yuma County, Haley Wright, sang the "Star Spangled Banner" prior to the game.
"Amberly's Place is a nonprofit and it's up to us, the community, to keep them running and I hope it encourages more people and other teams to host fundraisers and drives," GRHS Girls Basketball Team Captain Holly Binder said.
Amberly's Place is a non-profit organization that supports victims of domestic violence, child abuse, sexual assault, and elder abuse.