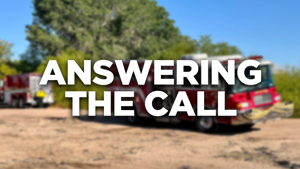 Here's every emergency call that Yuma Fire answered this week, 359
​​ 
YUMA — From Sunday August 06, 2023 through Saturday August 12, 2023, the Yuma Fire Department responded to 359 emergency calls for service:
7 Fire Responses including a fire involving a window air conditioning unit and a trash can fire
6 Mutual Aid Responses to assist other agencies
23 Special Duty and Public Assistance Responses including one for a snake removal
25 Motor Vehicle Crashes including 2 involving motorcycles and 1 involving a pedestrian
298 Medical Responses including: 12 for abdominal pain, 6 for upper extremity pain, 17 for lower extremity pain, 2 for deaths, 4 for alcohol overuse, 1 for an allergic reaction, 9 for altered levels of consciousness, 12 for anxiety, 7 for psychological distress, 12 for chest pain, 4 for strokes, 2 for diabetic emergencies, 15 for difficulty breathing, 10 for dizziness, 4 for drug overdoses, 13 for headaches or head pain, 7 for heart problems, 10 for blood pressure issues, 14 for pain, 3 for seizures, 2 for fainting, 1 for kidney stones, 2 for dehydration, 13 for heat exhaustion, 1 for an injury, 15 for weakness, and other illnesses and injuries.
Differences in levels of consciousness can sometimes indicate a person is having a stroke.
Remember the acronym FAST when it comes to recognizing a possible stoke:
F: Face drooping
A: Arm weakness
S: Speech difficulties
T: Time to call (9-1-1)
For more information about strokes, you can visit Stroke | cdc.gov.