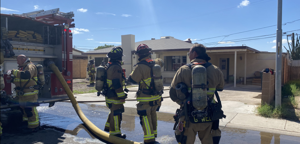 House unable to reoccupy after fire breaks out on patio in Yuma
​​ 
YUMA — Firefighters in Yuma have been investigating a fire that started on the back patio of a home (that had spread into the home's kitchen) and quickly extinguished it. The fire was contained to the house where it originated.
A woman was home at the time of the fire, as well as two dogs and one cat. The woman discovered the fire and was able to evacuate safely with the dogs. The cat was later found safe outside of the home as well. There were no injuries. The cause of the fire is under investigation, but there is no reason to believe this was an intentionally set fire. The American Red Cross was called to the scene to assist the residents since the home sustained enough damage that it could not immediately be reoccupied.