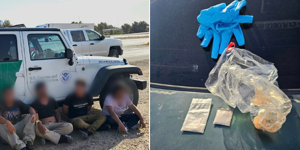 Human smuggling attempted at Yuma border
​​ 
YUMA — Yuma Sector Border Patrol agents intercepted a human smuggling attempt after camera operators spotted four suspected migrants running from the border toward a vehicle parked along Interstate 8 west of Yuma.
Agents stopped the vehicle and subsequently arrested a U.S. citizen and four Mexican nationals. They also discovered 4.6 grams of methamphetamine in the vehicle. The driver will be charged with smuggling.