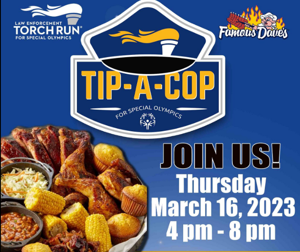 Law enforcement in Yuma participate in Tip-A-Cop Fundraiser
​​ 
YUMA — Yuma County Sheriff's Department, Somerton Police Department and San Luis Police Department will join the Yuma Police Department, along with other local agencies, to continue in raising money for the Law Enforcement Torch Run (LETR) for The Special Olympics by kicking off the first Multi-Agency Tip-A-Cop Fundraiser in Yuma County.
The event will be held at Famous Dave's Restaurant, 1501 S. Yuma Palms Pkwy, on Thursday, March 16, 2023 from 4:00pm – 8:00pm.
The Special Olympics is an international nonprofit organization dedicated to empowering individuals with intellectual disabilities. LETR helps bring awareness to The Special Olympics and obtain donations for the athletes.
The money and awareness we raise will help the athletes grow and continue to have opportunities to make new friends, learn new skills and discover their independence while participating in the many events The Special Olympics offers.
For many athletes, The Special Olympics is a path to empowerment, self-esteem, acceptance, joy and friendship, which is a unique opportunity these athletes with intellectual disabilities may not gain anywhere else.
Yuma Police Department employees and other law enforcement officers will be at the restaurant as "celebrity waiters" and to receive TIPS for The Special Olympics. Your donation is tax deductible.