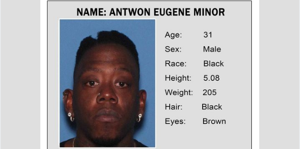 Level 3 sex offender in town, 'an informed community is a safer community'
​​ 
YUMA — The Yuma Police Department is notifying the community that Antwon Eugene Minor, 31, is now residing at 4th Avenue and 24th Street (HOMELESS), Yuma, Arizona 85364. He is described as 5 feet, 8 inches tall, 205 pounds, with black hair and brown eyes.
In 2015 Antwon Minor pled guilty to Sexual Conduct with a Minor in Pima County. The victim in this case was 14 years old at the time of the crime.
In November 05, 2015 was convicted of 1 count Sexual Conduct with a minor.
Antwon Eugene Minor is a level 3 sex offender with a high risk to re-offend.
It has been reported to the Yuma Police Department that the convicted sex offender in this notification is living in your area. Pursuant to Arizona Laws, we are releasing the information in this flyer, as it our belief that an informed community is a safer community. Abuse of this information to commit a crime against another person will result in prosecution. The Yuma PD has personal safety and neighborhood watch information and programs available. If you have any information regarding any criminal activity, please contact the Yuma PD at (928) 783-4421, or 78-Crime at (928) 782-7463 to remain anonymous.