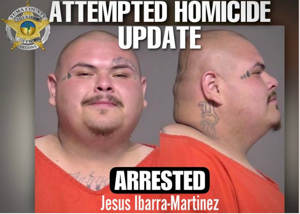 Man from Yuma arrested on gang related charges, and many more
​​ 
YUMA — A man from Yuma has been found and arrested for 2nd Degree of Attempted Homicide, three counts of Aggravated Assault with Deadly Weapons, Aggravated Assault, two counts of Drive-By Shooting, Disorderly Conduct with Weapons, and other Gang-related charges.
Jesus Ibarra-Martinez, 24, was the man who shot a 31-year-old man back in January 2023.
On Friday, February 10, 2023, Yuma Police observed Jesus Ibarra-Martinez at a residence in the 4100 Block of W. 3rd Place, Yuma, AZ, and notified YCSO Investigators. YCSO Investigators responded and made contact with the suspect with the assistance of YPD Officers and YCSO Deputies.