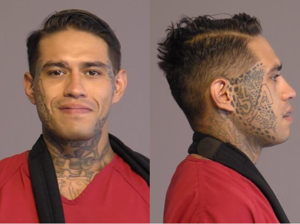 Man in Yuma arrested for murder
​​ 
YUMA — On Tuesday, September 12, 2023, at approximately 8:38 pm, the Yuma Police Department responded to the Yuma Regional Medical Center in reference to two victims with gunshot wounds.
The initial investigation revealed a shooting occurred in the area of the 2400 Block of Yowell Court where the two victims, a male and female, were wounded while inside a parked vehicle.
The 35-year-old female was pronounced deceased at the hospital and the 34-year-old male remained hospitalized for treatment and was released shortly thereafter.
This is an active investigation, and no suspects are in custody at the time of this press release.
UPDATE: The deceased victim has been identified as 35-year-old Alexis Rodriguez.
On Saturday, September 16, 2023, at 4:37 a.m., 28-year-old Alexander Delcid was taken into custody and booked for two counts of first-degree murder and one count of attempted first-degree murder.
The Yuma Police Department encourages anyone with any information about this case to please call the Yuma Police Department at (928) 783-4421 or 78-Crime at (928) 782-7463 to remain anonymous.