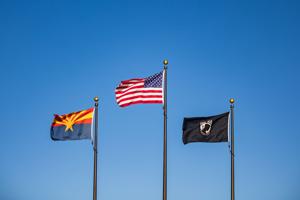 NAU-Yuma offering mechanical engineering program this fall
​​ 
YUMA — Business leaders in Yuma are eagerly seeking skilled workers to help transform the local economic landscape, and Northern Arizona University (NAU) is stepping up to the challenge. NAU has announced a strategic $2 million investment to launch a mechanical engineering degree program on its Yuma campus starting in the fall of 2023.
As home to major employers such as the Marine Corps Air Station Yuma and the U.S. Army Yuma Proving Ground, the demand for engineers in Yuma is steadily growing. However, despite being the most populous county in western Arizona, Yuma is primarily rural, making it difficult to find a skilled workforce, especially in engineering.
Professor Constantin Ciocanel, chairman of the Department of Mechanical Engineering at NAU, emphasized the scarcity of engineering degree options in the broader Yuma area. He said, "There are few engineering degree program options while the region has a high need for engineers to further develop it."
Andy Wang, Dean of the College of Engineering, Informatics and Applied Sciences at NAU in Flagstaff, echoed the sentiment, stating, "The need for engineers is growing in Yuma and the wider region. There are military installations there, and they're big employers in need of a lot of engineers. If the economy is going to grow and evolve, it's going to take engineers. We're going to be ready to educate that next generation of engineers."
James V. Davey, P.E., R.L.S., D.WRE, founder and principal engineer of Yuma-based James Davey and Associates, Inc., shared his perspective on the importance of NAU-Yuma's new mechanical engineering program. He stated, "The introduction of the mechanical engineering program at NAU-Yuma is a significant development for our region. As a local businessperson in the engineering industry, I understand the growing demand for skilled engineers in the Yuma community. This program will provide an invaluable opportunity for students to gain the necessary knowledge and skills to excel in the field. It will not only benefit aspiring engineers but also have a positive impact on companies like mine, as we'll have access to a well-trained workforce that can contribute to the growth and development of our businesses. I'm excited to see the program's impact on the local economy and the opportunities it will create for our community."
To address this pressing need, NAU is partnering with Arizona Western College (AWC) to offer the mechanical engineering program. Under the articulation agreement between the two institutions, students graduating from AWC with an associate degree in mechanical engineering will have a direct pathway to earning a Bachelor of Science in Mechanical Engineering from NAU-Yuma.
"We are building the capacity of the facilities and the laboratories to offer courses required for the completion of a Bachelor of Science in Mechanical Engineering," explained Professor Ciocanel. "We are going to have state-of-the-art laboratory facilities in Yuma. It's going to be a very well-equipped facility that will expose students to opportunities for hands-on and experiential learning."
NAU's decision to launch the mechanical engineering program in Yuma extends beyond the economic requirements of the region. "This is fully in alignment with NAU's new leadership, their vision, and their initiative," explained Dean Wang. "Our President Cruz Rivera has a vision to make NAU a powerful engine for the local economy and have a social mobility impact, increasing education attainment statewide."
The introduction of the mechanical engineering program in Yuma is particularly significant for the predominantly Hispanic population in Yuma County. Dr. Ciocanel emphasized the importance of offering an engineering degree without the need to leave home, allowing students to maintain their vital support systems and family ties. "Having an engineering program in Yuma while staying at home is a feature that people can really appreciate," he said.
The construction of NAU Yuma's Mechanical Engineering laboratory will be completed in August, just in time for the program's inaugural semester. NAU plans to continue investing in the program, increasing capacity, and welcoming more students.