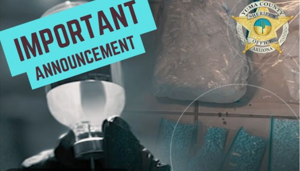 New drug going around, YCSO informs community about staying safe
​​ 
YUMA — The Yuma County Sheriff's Office has been releasing the following information to bring awareness to the public.
Criminal drug networks are cutting Fentanyl with a new substance: *𝗫𝘆𝗹𝗮𝘇𝗶𝗻𝗲.
Multiple state departments have reported the presence of Xylazine in opioid related overdoses. These drug trafficking organizations are currently running this product through U.S. communities with common street names of 'Tranq Dope' and 'Zombie Drug'.
Xylazine is a tranquilizer commonly used as an animal sedative by veterinarians on horses and cattle. This substance is not safe for human use and causes deadly symptoms such as excessive sleepiness, respiratory depression, slowed heart rate, skin rotting, and most importantly, these overdoses CANNOT be reversed with Naloxone (Narcan).
YCSO say how important for parents to talk with children about the facts and dangers of drugs. Practice with them on ways to turn down or avoid drugs when faced with pressure to try them.