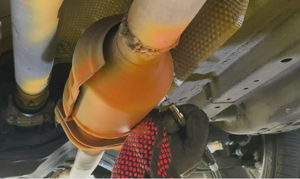 Police in Yuma warn the community about catalytic converter theft
​​ 
YUMA — Police in Yuma have been informing the community that catalytic converter thefts have been on the rise again. The good news is there has been a change to ARS 13-3728 (which came with HB2652), which makes it unlawful and a class one misdemeanor for a person to purchase, solicit, advertise, possess, or sell a used catalytic converter or any nonferrous parts of a catalytic converter.
The Yuma Police Department is still partnered with several local businesses to help combat the theft of catalytic converters in Yuma.
Throughout Yuma County and the nation, vehicle catalytic converters are being stolen for the precious metal contained within. This problem has cost consumers millions of dollars to replace vehicle parts. In addition, most catalytic converters do not have serial numbers or unique markings, making it difficult for law enforcement to prove a catalytic converter is stolen.
All vehicles can be targeted since they have catalytic converters. In the City of Yuma, the top three vehicles being targeted are the Ford F Series of trucks, Chevy vans, and Honda CRVs. Commercial work and transport vehicles are a concern since they sit overnight in parking lots and business areas.
Through the generous donations and support of local businesses, YPD will provide free catalytic converter etching. This etching will allow for tracking if stolen catalytic converters are located and can deter the thief from looking at stealing one.
The following businesses are participating in this operation:
Express Lube
1900 S. 4th Avenue
(928) 783-0597
FTS Automotive & Diesel Center
1701 S. Arizona Avenue
(928) 343-9430
Accurate Automotive Attention
1495 S. 3rd Avenue
(928) 783-8808
Big O Tires
2975 S Pacific Avenue
(928)-328-1394
Big O Tires
10517 S Frontage Road
(928)-328-1090
The etching will be by appointment only. Citizens must call one of the listed businesses to set up their appointment. Motorhomes and vehicles over one ton are excluded from this program.
The Yuma Police Department would also like to thank Home Depot for donating the etching tools to help make this possible. If any other businesses are interested in participating in this program, please contact Detective Waymire at the Yuma Police Department.
The Yuma Police Department encourages anyone with any information about the theft of catalytic converters to, please call the Yuma Police Department at (928) 783-4421 or 78-Crime at (928) 782-7463 to remain anonymous. Remember, if your information leads to an arrest, you may receive up to a $1,000 cash reward.