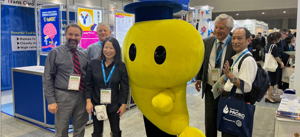 Professor of Agriculture at AWC shares genome editing research at international conference in Japan
​​ 
YUMA — Dr. Hikmet Budak, Professor of Agriculture at Arizona Western College, recently presented his research to geneticists from around the world during an international conference in Tokyo, Japan.
Dr. Budak was invited to speak to a large collaborative group at the BioJapan exhibition on Oct. 13, regarding, "CRISPR editing and silencing negatively regulated genes responsible for drought stress, cadmium toxicity, and insect damage."
"It was a privilege to present about CRISPR editing of cadmium toxicity genes while improving zinc deficiency and drought stress. The application of genome editing combined with deep learning tools for gene annotation is amazing. Transforming these technologies and data into knowledge is our future in agriculture. CRISPR editing genes is not GMO, Genetically Modified Organisms," said Dr. Budak.
"As this meeting was my second time in Japan, it was great to communicate science and maintain the network for public-private partnership, faculty, and student exchange opportunities between AWC and Japanese universities, as well as grant development activities as I have done in the past. Our main goal is to shape the future of agriculture to feed a growing population while navigating a wave of multifaceted challenges such as seismic climate change."
In addition to a variety of workshops and presentations, the three-day conference featured partnering sessions and an exposition of tabletop exhibits from universities and leading companies in the genomics and health industries from the U.S., U.K., Germany, Italy, Spain, Switzerland, Australia, Belgium, Japan, Dubai, Taiwan, and Holland. The conference also included a gallery of poster abstracts.
"The research and partnerships fostered by Dr. Budak in Japan are a specialty that we did not previously have within our AWC Agriculture staff," said Tosha Gillispie, AWC Director of Agriculture Programs. "These experiences and knowledge will bring a new perspective for our students and will be showcased in our newly created Plant and Animal Genetics course."
Dr. Budak's work encompasses a wide range of disciplines, accumulating 25 years of experience across academia and industry worldwide. Throughout his career, his focus has been on developing, understanding, and applying genome editing and multi-omics tools for plant improvement. He has a Ph.D. degree from the University of Nebraska-Lincoln with a major in Plant Genetics and Breeding and a minor in Statistics/Biometry.