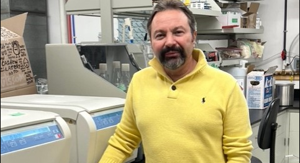 Professor of Agriculture to present at international conference in Australia
​​ 
YUMA — Dr. Hikmet Budak, Professor of Agriculture at Arizona Western College, has been invited to speak at the International Plant and Animal Genome Conference in Perth, Australia on September 20.
During the conference, Dr. Budak will lead a workshop titled, "Plant non-coding RNAs," examining the genomes of flowering plants and how they are transcribed.
"I am humbled and honored for the opportunity to organize a noncoding RNA workshop in Australia to present information on genome RNA editing and the development and use of Machine Learning algorithm (AI) for noncoding RNA annotation," said Dr. Budak. "I invited an excellent line of speakers and scientists from Cornell and Stanford universities as well as some private companies to create a network for public-private partnership, grant opportunities, faculty and student exchange opportunities, as well as scientific communications."
In addition to a variety of workshops, the three-day conference will feature plenary talks, scientific sessions, and an exposition of tabletop exhibits from leading companies in the agrigenomics industry. The conference will also include a gallery of poster abstracts, for which Dr. Budak has submitted information on "Editing Fusarium Head Blight microRNAs."
Before coming to work at AWC in July, Dr. Budak was the Chief Science Officer at Montana BioAg. Inc., USA and also served as an Adjunct Professor at the University of Nebraska-Lincoln. His work encompasses a wide range of disciplines, accumulating 25 years of experience across academia and industry worldwide. Throughout his career, his focus has been on developing, understanding, and applying editing tools for crop breeding and genetics.
"AWC Agriculture is excited to welcome Dr. Budak to our team!" said Tosha Gillispie, AWC Director of Agriculture Programs. "His expertise and research in plant breeding and genetics will be an asset to our students and local industry partners."
Reetika Dhawan, AWC Entrepreneurial College Chief Executive Officer and Vice President of Workforce & Healthcare, added, "We're thrilled to announce the addition of Dr. Budak to our AWC Agriculture Program. His extensive knowledge and research background will not only benefit our organization, but the agricultural community at large."
Dr. Budak has a Ph.D. degree from the University of Nebraska-Lincoln with a major in Plant Genetics and Breeding and a minor in Statistics/Biometry.