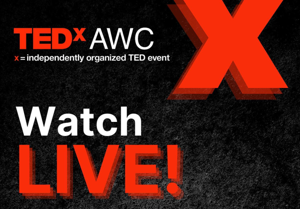 Ted Talks come to AWC, livestream event
​​ 
YUMA — The inaugural TEDxAWC event is almost here! TEDxAWC: Shift the Drift will take place Friday, March 17, from 4 -8 p.m. at the Arizona Western College Theater, 2020 S. Avenue 8E.
While tickets for the in-person event are sold out, TEDxAWC will be livestreamed starting at 4 PM MST on YouTube.com/AWCTV/LIVE. Completed TEDx Talks will also be shared worldwide on official TED platforms at later dates.
The conference will feature finalists selected to speak on the theme "Shift the Drift," which is about introducing new perspectives to regularly practiced procedures in different disciplines. Conversations will be initiated on how to reflect and bring awareness to what the drift is, determine the need for new ideas worth spreading in our community, and assess the effectiveness of implementing new changes.
In addition to inspiring creativity and ingenuity, the event will honor the voices of AWC students, faculty and staff, the larger community of Yuma and La Paz Counties, and beyond. Event speakers include Valeria Bogorevich, Trisha Campbell, Shawn Clavell & Kevin Kato, Ruchi Lamba, Troy Love, Lily McNair, Trudie Milner, Shadi Vahdat, and Anne-Heather Welch. More information about the speakers can be found on the official TEDxAWC website here.
The host for this historic event will be Lori Stofft, AWC Vice President for Advancement and Executive Director of the AWC Foundation. Stofft's passion for community advancement, idea sharing, and storytelling is ever-present in her work with TEDxAWC. She will bring her expertise in public relations, communication, and cultural alignment to this volunteer role.
John Hessinger is also volunteering his time as the TEDxAWC official Speech Coach. Hessinger is the Community Development Director for Better Business Bureau serving the Pacific Southwest and an instructor of Speech Communications at AWC. He brings a dedicated blend of knowledge and community vision to the team. Teaching Public Speaking since 2009 for NAU and AWC, Hessinger employs enthusiasm and expertise as the TEDxAWC Speech Coach.
"The TEDxAWC executive board, speech coach, student volunteers, production crew, and welding crew have been passionately working over the last few months to put on one of AWC's most awaited and most impactful events of its kind," said TEDxAWC Director/Licensee Dr. Sara Amani. "Our inaugural TEDxAWC will be lined up with outstanding speakers from diverse backgrounds, perspectives, and professions. What they have in common is their passion and desire to connect with the community, and to share 'ideas worth spreading' on topics such as psychology, healthcare, fitness science, rhetoric and composition, and more."
TEDxAWC was one of eight proposals approved through the 2022 AWC Innovation Fund, where faculty, staff and students had the opportunity to present a variety of ideas in hopes of being granted the funds to make their initiatives a reality. Dr. Sara Amani, Professor of Multilingual Composition/Specialist, was awarded $16,500 for her TEDxAWC proposal to implement the project. She was then able to secure the TEDx official license for the event from TED Conferences.
Add TEDxAWC to your calendar, and follow TEDxAWC on Twitter, Facebook, and Instagram, to help celebrate the incredible innovations and important ideas that will be featured.