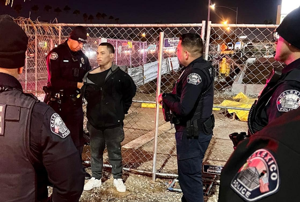 Teen from Calexico arrested for commercial burglary, video posted
​​ 
CALEXICO – A teen in Calexico has been arrested by a local shopping center cop for burglary. The cop was patrolling a local shopping center when he noticed a shattered window to a business.
The teen noticed the cop and jumped out the shattered window of the business with the merchandise he stole. The cop was able to catch up to the teen and arrest him.
The teen was identified as 18-year-old Jesus Petino. Jesus was a person of interest in a separate commercial burglary from the previous day. Jesus was charged with several felonies, including commercial burglary, and booked into Imperial County Jail.