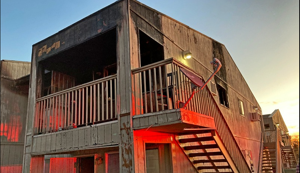 Teen in Yuma arrested for arson, officials say the fire was intentionally set
​​ 
YUMA — A teen in Yuma, Joseph Perez, has been arrested for Arson of an Occupied Structure. Around 5:00 in the morning, Yuma Fire went to the apartment complex on South 3rd Ave.
According to Yuma Fire, heavy smoke and the fire was coming from the second floor. Firefighters were quickly able to bring the fire under control. The apartment sustained significant fire and smoke damage.
The apartment is vacated and no one was currently living in it. It was in a block of eight apartments and all other occupants were able to evacuate safely.
The first-floor apartment also sustained some fire and smoke damage and was not able to be reoccupied. Some of the other apartments were left without power.
Fire investigators determined the fire to have been intentionally set.