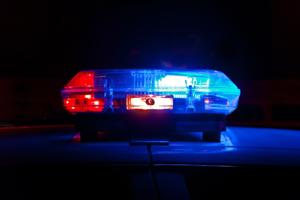 Three agencies in Yuma were involved in GTA crimes, driver dead after car chase
​​ 
YUMA — Three agencies in Yuma have been involved in GTA crimes. The incident happened on March 8th around 8 in the morning. YCSO got a report about a stolen water truck and guns around Araby Road and County 9 ½ Street.
About an hour later, Yuma police got a report about an attempted carjacking. Police say a Hispanic man threatened a 45-year-old woman with a gun and attempted to take her car. The man was having trouble with the car starting so he left back into the water truck. Police reported no injuries.
Then another hour goes by, and the same man carjacked a car in the parking lot of Arizona Western College. The man threatened a 51-year-old woman with a gun and took her purple Acura, and fled the scene leaving the water truck. There were no reported injuries.
40 minutes later, the stolen purple Acura from AWC was spotted in the area of 16th Street and Pacific Avenue. The car was lost in the area of 24th Street and Kennedy Lane.
Around 5 hours later, the stolen purple Acura was being followed by Somerton Police Department going north on Ave 3E. By that time it became a multiple-agency pursuit.
The car chase went onto I8 east to Foothills Boulevard, back west on North Frontage Road, then south on Avenue 8E, and then east on South Frontage Road which then caused an accident at Fortuna and South Frontage. The man then continued on Foothills Boulevard, west on North Frontage Road then north on Fortuna Road to Highway 95 westbound.
At 16th Street and Pate Drive, the man got out of the car and started going north on foot. The man then saw a DPS car, and man shot at the vehicle and continued on foot.
The man carjacked another car, a small silver car, in the 2200 block of E. 15th He got this car again by threatening a woman in her 70s with a gun. Reports say that the man did shoot his gun twice near the female victim and her passenger. There were no reported injuries.
The car chase continued through the Yuma Palms Regional Center Mall to Giss Parkway down to Avenue B and continued south. The chase made its way to County 15th Street and Avenue 3E, where the man hit a semi-truck in the intersection. The man, identified as a 44-year-old Hispanic man, was pronounced deceased on the scene. There were no other reported injuries.
The man was later identified as Alfredo Panduro Zendejas, 44, of Yuma. Police say Alfredo Panduro Zendejas has an extensive violent criminal history, including serving time in prison.
The agencies who were involved and/or assisted with the vehicle pursuit were YPD, YCSO, Somerton PD, Department of Public Safety, Homeland Security Investigations, Customs and Border Protection Air and Marine Operations, US Border Protection, and US Marshals.
The Yuma Police Department encourages anyone with any information about this case to please call the Yuma Police Department at (928) 373-4700.