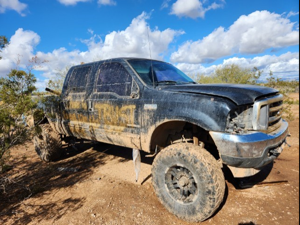 Three men arrested on GTA charges near Surprise
​​ 
ARIZONA – Vehicle Theft Task Force (VTTF) have been observing a business in the area of 204th Lane and Patton Road in Wittmann, AZ. Over several weeks of investigating, during which detectives observed numerous suspected stolen vehicles on the property. The three wanted men were observed transporting stolen vehicles on and off of the property.
During service of the search warrants, detectives recovered the following items:
– Two stolen pickup trucks
– Two stolen motorhomes
– Two stolen trailers
– One stolen skid steer Bobcat
– One stolen handgun
– Fentanyl
– Methamphetamine
Detectives arrested 50-year-old Ronald Barnum, of Wittmann, on charges including:
– Theft of means of transportation (5 counts)
– Possession of dangerous drugs
– Possession of narcotic drugs
– Resisting arrest
– Possession of a weapon by a prohibited possessor
Detectives also arrested 32-year-old Joshua Reiff, of El Mirage, on charges including theft of means of transportation and resisting arrest, and 48-year-old Jesse Romero, of Surprise, on a charge of unlawful use of means of transportation.
Troopers were assisted by Goodyear Police Department, Maricopa County Sheriff's Office, and Surprise Police Department.
The VTTF is comprised of city, county, state, and federal law enforcement agencies participating in a concerted effort to identify, apprehend, and prosecute individuals and criminal organizations that profit from the theft of motor vehicles and related crimes.
The VTTF serves a vital mission on behalf of the Arizona Automobile Theft Authority (AATA) to reduce vehicle theft in Arizona by deterring criminal activity through effective and proactive enforcement, prosecution and public awareness programs. The VTTF is substantially funded by an annual grant from the AATA.