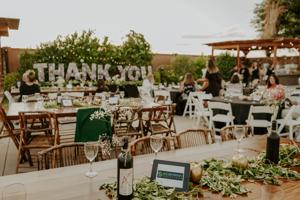 Tickets on sale now for 2nd Annual Schoolhouse Soiree at AWC in Yuma
​​ 
YUMA — Join the AWC Foundation as they celebrate 60 years of service to Yuma and La Paz counties at the 2nd Annual Schoolhouse Soiree.
During this event, the AWC Foundation will be honoring generous donors, scholarship recipients, and 2023 AWC Hall of Fame inductees Tom Tyree and John Stratton.
"Join us at our 2nd Annual AWC Foundation Schoolhouse Soiree as we recognize the past, present, and future," said Gladys Anaya, AWC Foundation Development Manager. "We will be celebrating our AWC Hall of Fame inductees who have positively impacted AWC and our community. We will also be recognizing scholarship recipients and the generosity of donors who have made those opportunities possible. This year is even more exciting as we celebrate 60 years of serving Yuma and La Paz counties."
The Schoolhouse Soiree will be held on Friday, October 6, from 6-10 p.m. at the AWC Schoening Conference Center, 2020 S. Ave 8E. Tickets for the event are $100. Visit the AWC Foundation Shop page here: foundation.azwestern.edu/shop to purchase a ticket or to become a sponsor. Remaining sponsorship opportunities include: Make a Difference Sponsors ($2,500), Knowledge is Power Sponsors ($1,000), and Key to Success Sponsors ($500). Yuma Regional Medical Center is the presenting sponsor for the event.
Last year's inaugural celebration merged two longtime AWC Foundation events, the Hall of Fame and the Celebration of Scholars. The AWC Foundation raised close to $42,000 during the event to establish the Gold Heart Endowment for scholarships. This year's goal is to raise $60,000 for 60 years of service to the community.
Established in 2011, the AWC Hall of Fame honors alumni, faculty, and community leaders from Yuma and La Paz counties who have made a significant contribution to the mission and goals of the college or distinguished themselves in service to the community and beyond.
A native of Arizona, Tom Tyree has served in public education for 50 years in various capacities as a teacher, coach, and Yuma County School Superintendent. John Stratton was the AWC Head Baseball Coach for over 27 years making a positive impact on hundreds of young men throughout his tenure.
For more information about the event, contact the AWC Foundation at foundation@azwestern.edu or (928) 344-1720.