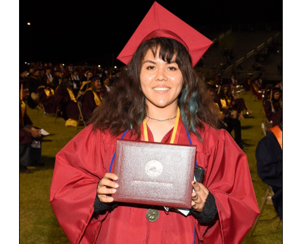 Two students from AWC earn Artists Guild for their ceramic work
​​ 
YUMA — Two Arizona Western College art majors recently received scholarships from the Arizona Artists Guild for their ceramic work.
Belsy Trigueros was the recipient of the Arizona Clay Association Scholarship for $1,000 and Cesar Duarte earned the Erin O'Dell Scholarship for $1,000.
Each year, full-time students from Arizona's universities and community colleges can apply for awards through the Arizona Artists Guild Visual Arts Scholarship Program to continue their education. Of the 11 students awarded scholarships this year, Trigueros and Duarte were two of only three undergraduate students to be chosen.
The students have been featured in an exhibition of their artwork, "New Art Arizona," at the West Valley Art Museum located inside Peoria City Hall, 8401 W Monroe St, Peoria, AZ 85345. The show began on Feb. 13, and will run until Wednesday, March 22. The artists will present their work during an awards ceremony at 5:30 p.m. on Tuesday, March 21, at the Arizona Artists Guild, 18411 N 7th Ave, Phoenix, AZ 85023.
Jurors made their final selections for the awards based on the quality of art submissions, as well as a provided student statement.
"I feel very fortunate to be able to experience this opportunity," said Trigueros said. "I was initially in disbelief when I was informed that I was selected to receive the Arizona Clay Scholarship. I feel honored to have exhibited my personal pieces alongside other graduate artists throughout Arizona."
What originally started as a way to fulfill an art credit for Trigueros, turned into an outlet of personal expression and a new-found passion that influenced her future career choice.
"I was on the Women's Soccer team at Arizona Western College, and I chose ceramics because I needed an art credit and felt the need to try something I have never experienced before. This was a way to challenge myself," she said. "Now, I aspire to become a professor of Studio Arts. I am currently taking diverse studio classes, including printmaking, painting, and ceramics, which have broadened my abilities. My goal is to teach what I have learned to future students."
Trigueros earned her Associate in Arts degree in General Studies in 2021, and is now pursuing a degree in Studio Art with an emphasis in Ceramics and Sculpture. She plans to use this scholarship to go toward her tuition at a university art program.
Duarte will be graduating this May with an Associate in Arts degree in General Studies and plans to transfer to Northern Arizona University to pursue a bachelor's degree in Studio Arts with an emphasis in Ceramics.
"My first experience in a ceramics class was during my sophomore year of high school. Following this experience, I have continued to take ceramics courses at AWC and have set up an at-home studio. I enjoy the process of converting organic materials into functional and decorative forms of ceramic art. My end goal would be to become a Ceramics Professor to keep sharing the life and joy of clay," he said.
"I was ecstatic to learn that I was selected to receive the Arizona Artist Guild Erin O'Dell Scholarship. I feel honored to be featured in the New Art Arizona Exhibition, which exhibits such a high level of fellow artists from universities throughout Arizona."
Professor of Fine Arts Rebecca Shelby shared that she has worked with Trigueros and Duarte for the past two years and has encouraged them, as she does with all of her students, to find their voice and what interests them.
"These two students could not be more different in their approach to making their art. Belsy is intuitive and inspired by very ancient art and traditional Mexican art. She prefers to hand build in clay and enhance her forms with different drawing techniques on the surfaces of her pieces. Belsy rarely uses glaze on her forms, relying on underglazes and an occasional spot of glaze to highlight a specific area. Cesar is inspired by traditional Asian forms, such as gourd bottles and moon jars. Cesar is dedicated to wheel-thrown forms and perfecting a few select forms. His surfaces rely primarily on the glazes and how they interact with each other in the firing process. Recently his work has really grown in scale, so much so that his earlier works can fit inside of his new works," she said. "I'm very proud of both of them for their hard work and getting these scholarships from the Arizona Artists Guild."
Since its inception in 1993, the Arizona Artists Guild has awarded over $150,000 in scholarships. The Arizona Artists Guild was founded in 1928 and is a 501(c)3 nonprofit organization led by volunteers dedicated to providing and promoting opportunities in the visual arts including exhibitions, education, and outreach programs.