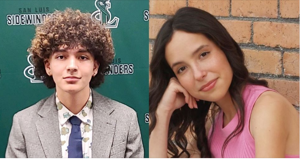 Two YUHSD students named finalists for 2023 Flinn Scholarship
​​ 
SAN LUIS — San Luis High School senior Efren Figueroa and Cibola High School senior Kaylee Woods have been named as prestigious Flinn Scholarship finalists.
Out of nearly 1,050 applicants, the Flinn Foundation selected 39 students across Arizona as finalists for the scholarship.
"Being chosen as a finalist for the Flinn Scholarship has been such an honor," Woods said. "It is gratifying to know that my accomplishments are on par with my peers who live in bigger cities and it feels great to have my hard work recognized. Being a finalist is also nerve-racking, knowing the effect that winning the scholarship could have on my future."
Applicants for the scholarship must attain at least a 3.5 grade-point average, rank in the top 5 percent of their graduating class, and participate and demonstrate leadership in a variety of extracurricular activities.
"Kaylee is the type of student I wish I could have more of," said CHS teacher and student council adviser Loren Simpson, who has been in the classroom with Woods all four years of high school. "I've watched her grow into a tenacious young lady over the past four years. She's a natural leader in class and in her activities. Kaylee genuinely cares about people and has made it a point to create a place where all students feel welcomed and included. She is actively involved in campus activities, community service, college courses, and the Governor's Youth Commission. There could not be a more deserving finalist for this scholarship."
Figueroa is the first Flinn Scholarship finalist at SLHS in nearly a decade. Overall, Yuma Union High School District has not had a Flinn Scholarship winner since Cibola's Edgar Melendrez in 2018.
"I'm so grateful for this opportunity and I hope I can represent this community," Figueroa said.
SLHS counselor Carmen Castañeda added: "Efren is a student who stood out from his freshman year. He is a natural born leader and I am excited that this showed in his interview. He is destined for great things and cannot wait to see where life takes him after SLHS."
Flinn Scholarship finalists will interview on March 22 and 23 with a five-person selection committee. From the 39 finalists, 20 students will be named a Flinn Scholar. The Class of 2023 will be announced in April.
According to their website, the Flinn Scholarship Program provides an unparalleled package for undergraduate study at an Arizona public university for 20 of Arizona's highest-achieving high school seniors each year. The merit-based scholarship program covers the cost of tuition, fees, room and board and at least two study-abroad experiences. The overall financial package is valued at more than $130,000. Flinn Scholars, who attend Arizona State University, Northern Arizona University, or University of Arizona, also benefit from working with top faculty and researchers, meeting business and civic leaders in their field, and forming their own community and alumni network.