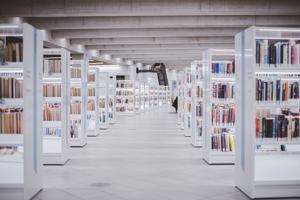 Virtual Author talks for March, hosted by Yuma Main library
​​ 
YUMA — The Yuma County Library District is excited to continue their series of virtual author talks with bestselling authors and thought leaders. Each event will be live-streamed at the Main and Foothills libraries. Or, participate remotely by registering for an event at https://libraryc.org/yumalibrary/upcoming
Monday, March 13th @ 10:00 a.m.
Range: Why Generalists Triumph in a Specialized World
Author Talk with David Epstein
Plenty of experts argue that anyone who wants to develop a skill, play an instrument, or lead their field should start early, focus intensely, and rack up as many hours of deliberate practice as possible. If you dabble or delay, you'll never catch up to the people who got a head start. But a closer look at research on the world's top performers, from professional athletes to Nobel laureates, shows that early specialization is the exception, not the rule.
David Epstein examined the world's most successful athletes, artists, musicians, inventors, forecasters, and scientists. He discovered that in most fields—especially those that are complex and unpredictable—generalists, not specialists, are primed to excel. Generalists often find their path late, juggling many interests rather than focusing on one. They're also more creative, agile, and able to make connections their more specialized peers can't see.
David Epstein is the author of the #1 New York Times bestseller Range: Why Generalists Triumph in a Specialized World and of the New York Times bestseller The Sports Gene, both of which have been translated into more than 20 languages. His writing has been honored by an array of organizations, from the National Academies of Sciences, Engineering, and Medicine, to the Society of Professional Journalists and the National Center on Disability and Journalism, and has been included in the Best American Science and Nature Writing anthology. His story "Following the Trail of Broken Hearts," on sudden cardiac death in athletes, was chosen as one of the top 100 stories of the last 100 years by Columbia Journalism alumni. He has master's degrees in environmental science and journalism and lives in Washington, DC.
Tuesday, March 21st @ 1:00 p.m.
Southern Inspired: Author Talk with Celebrity Chef Jernard A. Wells
Delicious and inventive recipes that remix the traditional flavors and classic dishes of Southern food and celebrate African-American culinary contributions to tables worldwide—from the host of CLEO TV's New Soul Kitchen. After growing up in Mississippi, Jernard Wells brought the familiar dishes and bold flavors of the South along his culinary journey to become a chef, restaurateur, and TV host. With Southern Inspired, Jernard continues his journey—retracing the steps of generations of African American cooks whose creations have contributed to global kitchen tables since slavery. Southern food defines American food at large, and Chef Jernard takes it to a whole new level while still honoring its roots. Chef Jernard also brings in flavors from the Caribbean, Latin America, Asia, and Europe, always with his signature Southern flair. This cookbook shares 100 recipes that are approachable for both beginners and more experienced cooks.
Jernard Wells is an Award-Winning TV Host/Celebrity Chef/Bestselling Cookbook Author. He is the host of "New Soul Kitchen" & "New Soul Kitchen Remix" on CLEO TV and is well-known for appearing on numerous cooking shows on Food Network & Cooking Channel over the last decade. He has been featured on "Today Show", "Good Morning America", PEOPLE, "Steve Harvey Morning Show", "The Rickey Smiley Morning Show", ESSENCE, "Daily Blast Live", USA Today, Lifetime, Oprah Winfrey Network to name a few. The James Beard House Honored Chef is affectionately called "The Family Chef" because he loves using food to promote positive family images. He and his wife of 25 years have 9 children and live in the Atlanta area. Follow him on all his verified social media pages at @ChefJernard
Tuesday, March 28th @ 4:00 p.m.
Code Name Sapphire: Author Talk with Pam Jenoff
It's 1942 and Hannah Martel has narrowly escaped Nazi Germany after her fiancé was killed in a pogrom. When her ship bound for America is turned away at port, she has nowhere to go but to her cousin Lily, who lives with her family in Brussels. Fearful for her life, Hannah is desperate to escape occupied Europe. But with no safe way to leave, she must return to the dangerous underground work she thought she had left behind.
Seeking help, Hannah joins the Sapphire Line, a secret resistance network led by a mysterious woman named Micheline and her enigmatic brother Mateo. But when a grave mistake causes Lily's family to be arrested and slated for deportation to Auschwitz, Hannah finds herself torn between her loyalties. How much is Hannah willing to sacrifice to save the people she loves? Inspired by incredible true stories of courage and sacrifice, Code Name Sapphire is a powerful novel about love, family and the unshakable resilience of women in even the hardest of times.
Pam Jenoff was born in Maryland and raised outside Philadelphia. She attended George Washington University in Washington, D.C., and Cambridge University in England. Upon receiving her master's in history from Cambridge, she accepted an appointment as Special Assistant to the Secretary of the Army. Following her work at the Pentagon, Pam moved to the State Department. Pam left the Foreign Service in 1998 to attend law school and graduated from the University of Pennsylvania. She now teaches law school at Rutgers.