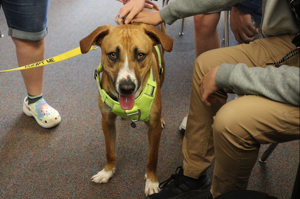 YUHSD gets a special visitor, "Ernesto brought smiles to everyone's faces"
​​ 
YUMA — Yuma Union High School District and the Humane Society of Yuma partnered to bring a little bit of joy to schools and offices.
As part of HSOY's "Dogs Day Out" program, a dog got to spend part of Wednesday, March 15, at Gila Ridge High School visiting classrooms in an approved area on campus. The dog, a boxer named "Ernesto," has spent most of his young life in a kennel after coming to the Humane Society as a puppy less than a year ago. He also visited the YUHSD district office on March 2.
"Ernesto brought smiles to everyone's faces today," GRHS Principal Kathy Hoover said. "Our students were so excited to interact with him, and he was so compassionate with them. Staff and students were excited to be a part of Ernesto's journey to be adopted. We are hoping this program helps shine a light on how great these dogs are and how much happiness their presence brings. We are looking forward to expanding the experience to more students who could benefit from the experience and, in turn, getting more pets adopted from the Humane Society of Yuma."
Staff and students, after signing a consent form, had an opportunity to interact with Ernesto on a scheduled basis, or as a therapeutic intervention.
"We are grateful for the partnership with Yuma Union High School District for allowing us to share our shelter dogs with them," HSOY Executive Director Annette Lagunas said. "The Dogs Day Out program gives our dogs the invaluable opportunity to experience a day out of the shelter and explore a new environment while meeting new friends. I'm sure Ernesto had an amazing day and while we hope to send him back out again, our ultimate goal is that he gets the exposure needed to find his forever home."
The "Dogs Day Out" program was created in order to help reduce kennel stress and provide dogs with enrichment. This program also provides valuable insight on how the dog behaves outside the shelter environment. All dogs who take part in the program have been certified by HSOY for public interactions with adolescents.
YUHSD and HSOY intend to expand the program in the coming months to include additional campuses and opportunities.