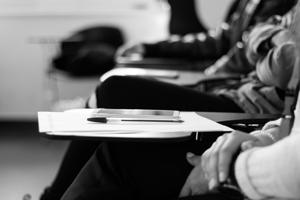 YUHSD sends three teams to Academic Decathlon state championships
​​ 
YUMA — Two of Yuma Union High School District's perennially successful Academic Decathlon programs will be joined by a newcomer in this weekend's state competition.
For the first time in their 22-year history, San Luis High School will take a team to the state finals. The Sidewinders, who finished a school-best seventh in last month's Region III competition, will join Cibola High School (fourth at regionals) and Gila Ridge High School (10th at regionals) at Phoenix College on Mar. 10-11 for a chance to advance to nationals.
Cibola has advanced to state every year since 2012 and 28 times overall with top 20 finishes in each of the last eight years, including 10th place in 2019. Gila Ridge has advanced to state 12 years in a row. They finished 16th in 2022.
"While we had four team members earn a medal at regionals, it was the effort of the entire class that made it possible to receive medals for the first time," SLHS Academic Decathlon Adviser John Glauner said.
Individual medalists do not advance to state unless their team also qualifies. However, Yuma High School was recognized at the Region III tournament with the "Most Improved" award.
The Arizona Academic Decathlon is a ten-event scholastic competition for teams of high school students. Just like its ancient Greek counterpart, the Academic Decathlon® consists of ten events; success doesn't come from being the best in a single event, it comes from mastering ten varied skills and disciplines.
Every Academic Decathlon competition, whether it's a regional, state or national final follows the same format. Students compete in art, economics, essay, interview, language & literature, mathematics, music, science, social science, and speech. And teams compete in Super Quiz, the public quiz-show-style culmination of each competition. Each school enters a team of nine decathletes: three Honor students, three Scholastic students, and three Varsity students.