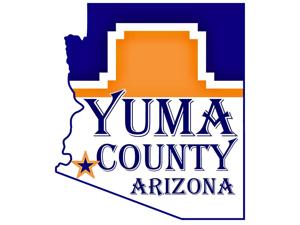 Yuma County announces the Strategic Plan Committee
​​ 
YUMA — Yuma County recently held its Quarterly Management Team Meeting at the Auditorium of Heritage Library. The meeting brought together key members to discuss crucial topics related to the county's development and progress.
This meeting serves as a cornerstone of Yuma County's commitment to transparency, efficiency, and collaboration. By gathering elected officials, department directors and management staff from all departments, county leadership focused on smooth communication, streamlined planning, and collaborative decision-making.
Participants engaged in discussions on a wide range of subjects that are central to the county's growth and prosperity. These topics included the upcoming Compensation Study, updates on ongoing and upcoming building projects, developments in the Communications Division (including website, intranet, and social media enhancements), and an Enterprise Risk Management update, among others. County Administrator Ian McGaughey presented an update to attendees on progress of items discussed during Yuma County's Long-Term Planning Roundtable, held on April 10 and 11 of this year. During his presentation, Administrator McGaughey noted action items resulting from the roundtable event and announced the Strategic Plan Committee. The committee will be tasked with updating Yuma County's Strategic Plan to be brought before the Yuma County Board of Supervisors in 2024. The committee members named are:
Josh Scott Deputy County Administrator
Robyn Stallworth Pouquette Enterprise Risk Administrative Director
Tony Struck Budget Director
Arlyn Galaviz Communication & Public Affairs Administrative Director
Craig Sellers Development Services Director
Diana Gomez Health District Director
Major Eben Bratcher Yuma County Sheriff's Office
The insights generated during this meeting play a crucial role in shaping the future initiatives of Yuma County government. Overall, the event was an informative gathering of county officials, marking another milestone in Yuma County's journey towards continued improvement and innovation. The next County Quarterly Management Team Meeting will be held on October 24, 2023.