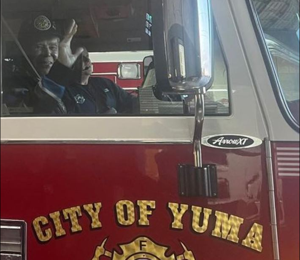 Yuma Fire remembers Retired Fire Chief Phillip Cano
​​ 
YUMA — Yuma Fire has been informing the community about the passing of Retired Fire Chief Phillip Cano who passed away at the age of 94 on Tuesday, February 28th, 2023.
Chief Cano served with the Yuma Fire Department from March of 1957 to September of 1989. Chief Cano's leadership and service to the community will never be forgotten, and we want to extend our sincere condolences to his family and friends.
Chief Cano led by example. His style of leadership could have served as the basis for our City's core values at the time: honesty, integrity, excellence, customer service, openness and teamwork, and forward thinking. Phil was instrumental in the development of the Critical Incident Stress Debriefing Team, and the reserve firefighter program. The initiation of the department's first Certified Emergency Paramedics and Yuma County's Enhanced 9-1-1 System were during his tenure as fire chief. During his 32 years of service with the Yuma Fire Department, Chief Cano exemplified the phrase "An Officer and a Gentleman." YFD Fire Station #5 was dedicated in his honor in February of 1999.