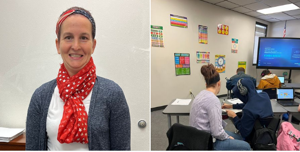 Yuma high school teacher earns teacher of the month from local dealership
​​ 
YUMA — Yuma High School teacher Shantele Sajdowitz has been selected as Teacher of the Month by Desert Ford Dealers in partnership with Univision Arizona and All in Education after being nominated by two staff members at All in Education.
Sajdowitz began teaching middle school in 2010 and started working on pursuing her Master's degree in special education. She has been teaching special education at Yuma High since 2016 and has taught students with various disabilities for the last seven years.
"Receiving the teacher of the month award left me speechless," Sajdowitz said. "This makes what I do all the more worth it because I put all my time and energy into teaching and making a positive impact in the lives of the children that walk through my classroom door each day."
As part of the Teacher of the Month campaign, Univision Arizona will create a 30-second commercial spot highlighting Sajdowitz. The spot is expected to air statewide on Univision Arizona Feb. 15-27, 2023. Yuma High School will also receive a donation of $1,000.
"We are thrilled to recognize passionate teachers in Arizona that are making a difference in the education and lives of Arizona students," Emily Zielinski, Account Coordinator from Televisa Univision said.
All in Education is an organization that works to ensure that no child is at risk of falling behind and to ensure that individuals from the communities most impacted by education inequities are the ones making decisions for all students.